Coincidiendo con su d?cimo aniversario, me he propuesto repasar los discos que, entre los editados en 1994, fueron para m? m?s significativos ya que recuerdo muchos de ellos con especial cari?o.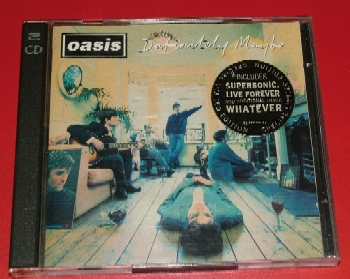 Comenc? en julio pasado recordando el Mellow Gold de Beck, hoy es el turno del Definitely Maybe, el primer disco de Oasis y uno de los ?lbums de debut con ventas m?s fulgurantes de todos los tiempos. Publicado el 30 de agosto de 1994, tres d?as despu?s de que yo cumpliera 17 a?os, supuso para m? un aut?ntico descubrimiento de un nuevo grupo de Manchester que me recordaba poderosamente a Stone Roses.
Por aquel entonces, en lo que a grupos brit?nicos se refiere, una vez superada una primera fase primigenia de Beatles, Stones, Who y Kinks, escuchaba a Jam, Smiths, Happy Mondays, Charlatans, Blur o Suede y despu?s de haber visto Quadrophenia, no ten?a otra ilusi?n en la vida que comprarme una Lambretta y que saliera de una vez por todas el segundo disco de Stone Roses.
En noviembre de ese mismo a?o, por fin se publicaba el Second Coming, inesperadamente, una tremenda decepci?n. Sin embargo, recuerdo que no me import? demasiado, ya ten?a el Definitely Maybe, un disco que resum?a en 11 canciones la esencia del rock brit?nico.
Las mejores canciones del ?lbum creo que son "Supersonic", "Rock and Roll Star", "Slide away" y "Live Forever", sin olvidar "Whaterver", un single inclu?do en la edici?n que yo tengo y una de las primeras canciones que escuchaba que utilizaba orquesta, adem?s es mi favorita de Oasis.
Como curiosidades del disco, se?analar que "Cigarettes and Alcohol" recoge el riff del "Bang a Gong" de T. Rex y que en la foto de portada del disco se pueden distinguir fotos de George Best y Rodney Marsh (futbolistas brit?nicos), una imagen de "El Bueno, el feo y el malo", la cubierta de un ?lbum de Burt Bacarach y un paquete de Benson & Hedges.
Aprovechando su d?cimo aniversario, Oasis ha decidido reeditar en DVD el Definitely Maybe, incluyendo la canci?n 'Sad Song', la cual, en su d?a, s?lo apareci? en vinilo. Este DVD, un imprescindible para los fans presenta la versi?n en audio, un documental en el estudio de grabaci?n, un montaje fotogr?fico y vioclips que utilizaron en la promoci?n de aquel trabajo. Pero si no tienes bastante, hazte con la edici?n limitada y completa todo este material con 2 rarezas en directo, y seis cortos con an?cdotas del grupo.

Más información:
Últimos artículos:
Post Popularity 2.56%
Popularity Breakdown
Views 0.18% Comments 10.04% Retweets 0% Facebook Likes 0%