El pasado trece de abril, despu?s de once a?os de silencio, los Pixies volv?an a los escenarios en el peque?o Fine Line Music Cafe de Minneapolis. Seg?n las cr?nicas que pude leer, la actuaci?n fue todo un ?xito.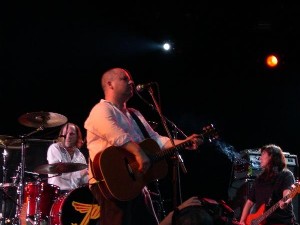 Un par de semanas despu?s, el uno de mayo, Frank Black y los suyos se enfrentaban a un concierto de los grandes, actuaban como cabeza de cartel en el Coachella, el festival del a?o en los Estados Unidos. De nuevo parece que no defraudaron.
Ambas actuaciones que grabaron para ser editadas como parte de una serie de discos en directo conmemorativos de la gira, han sido publicadas por una web musical norteamericana en formato MP3 y ya pueden ser descargadas completas.
Si quieres escuchar c?mo suenan los Pixies despu?s de once a?os de silencio no te pierdas su concierto en el Coachella: (bot?n derecho del rat?n y Save as/Guardar como)
1. Bone Machine
2. U-Mass
3. Isla de Encanta
4. Wave of Mutilation
5. Broken Face
6. Cactus
7. Caribou8. N? 13 Baby
9. Gouge Away
10. Tame
11. Monkey gone to heaven
12. Debaser
13. Veloruia
14. Hey
15. Gigantic
16. Nimrod?s song
17. Here comes your man
18. Vamos
19. In Heaven-Where is my mind
20. Into the White
Si con el Coachella no es suficiente, puedes descargar tambi?n el concierto del Fine Line Music Cafe.

Más información:
Últimos artículos:
Post Popularity 1.61%
Popularity Breakdown
Comments 4.82% Retweets 0% Facebook Likes 0%