Primer Saturday Pop Party en Bilbao: La GRANJA + THE EXTENDED PLAYS + Djs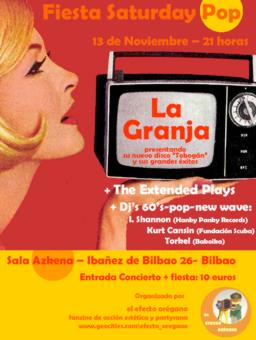 El pr?ximo 13 de Noviembre "El Efecto Or?gano" organiza en la Sala Azkena el Primer Saturday Pop Party que traer? por primera vez a Bilbao a uno de los grupos m?ticos del pop espa?ol: La Granja.
Junto con los mallorquines actuar?n The Extended Plays, una banda de claras reminiscencias mod que han demostrado ya en otros festivales el poder de su r&b y sixties's pop.
Posteriormente habr? sesi?n de djs pop en la que participar?n I. Shannon (Hanky Panky Records), Kurt Cansin (Fundaci?n Scuba) y Torkel, m?tico coleccionista discogr?fico bilba?no.
Más información:
Últimos artículos:
Post Popularity 1.15%
Popularity Breakdown
Views 0.18% Comments 4.42% Retweets 0% Facebook Likes 0%