Depu?s del, para muchos, decepcionante Hield to the thief y de una gira que les trajo a tocar a Madrid, parece que Radiohead vuelve al estudio.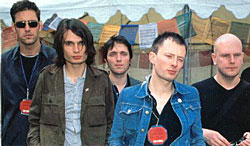 O por lo menos eso ha declarado Jonny Greenwood al Billboard. Entre otras cosas ha afirmado que despu?s del par?n navide?o, la banda est? en Oxford y muy pendiente del estudio de grabaci?n.
Por otro lado desde la p?gina m?s completa de informaci?n sobre noticias de Radiohead, informan que los contenidos multimedia que el grupo publica a trav?s de Radiohead.tv, estar?n pronto disponibles en DVD.
De confirmarse todos los rumores, este nuevo ?lbum del que a?n no se sabe nada, ser?a el s?ptimo de la carrera de la banda de Oxford que pr?ximamente compartir? cartel con Pixies en el primer d?a del Coachella Festival.

Más información:
Últimos artículos:
Post Popularity 2.62%
Popularity Breakdown
Views 0.45% Comments 10.04% Retweets 0% Facebook Likes 0%