Los oyentes de Toxicosmos, el programa de radio que se emite los jueves de 16:30 A 18:30 horas desde Valencia, en la UPV RADIO, 102.5 FM, han votado lo que ellos consideran lo mejor del 2003.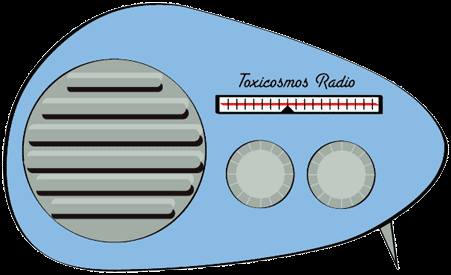 La lista de los mejores discos del a?o pasado que ha resultado del recuento es la siguiente:
1. La Buena Vida "Album" – Sinnamon Records
2. Ellos "Ni lo se ni me importa" – Subterfuge Records
3. Sidonie "Shell Kids" – Sony Music
4. Sr Chinarro "El ventrilocuo de si mismo" – Acuarela Discos
5. Pauline en la playa "Termitas y otras cosas" – Subterfuge Records
6. Nacho Vegas "Cajas de musica dificiles de parar" – Limbo Starr
7. La Habitacion Roja "4" – Astro/Grabaciones en el mar
8. Refree "Nones" – Acuarela Discos
9. Manta Ray "Estratexa" – Astro
10. Sexy Sadie "Lost and founds" – Subterfuge Records
11. La Costa Brava "Los dias mas largos" – Grabaciones en el mar
12. Deluxe "If things were to wrong" – Mushroom Pillow
13. Cecilia Ann "Si yo te contara" – IM Records
14. Souvenir "Recto Verso" – Jabalina Musica
15. Plastic D'amour "Olivia" – Siesta
16. Niza "Canciones de temporada" – Elefant Records
17. La Casa Azul "Tan simple como el amor" – Elefant Records
18. Jet Lag "Beautiful scars" – Bittersweet Recordings
19. Deneuve "El amor visto desde el aire" – Grabaciones en el Mar
20. Airbag "Ensamble cohetes" – El Ejercito Rojo
21. El Columpio Asesino "El columpio asesino" – Astro Discos
22. Universal Circus "Shinning lights series" – Mushroom Pillow
23. Una Sonrisa Terrible "Paracaidas" – Criminal Records
24. Zola "Siete maletas" – Jabalina Musica
25. Love of Lesbian "Ungravity" – Naive
Coincido plenamente en el n?mero uno, LBV ha sido en mi opini?n, lo mejor del a?o. Refree, que para sorpresa de muchos, yo inclu?do, fue lo mejor del 2003 para la revista RdL, est? en el puesto 8?.

Más información:
Últimos artículos:
Post Popularity 0.52%
Popularity Breakdown
Views 0.45% Comments 1.61% Retweets 0% Facebook Likes 0%