Visitando el intermitente y magn?ficamente renovado weblog Social Engineering pude leer una interesante noticia sobre Pixies.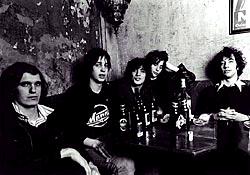 Albert Hammond Jnr ha confesado a la radio BBC 1 que los componentes de Strokes son grandes fans de Pixies y que ser?a un sue?o que llegaran a tocar juntos.
El guitarrista de Strokes ha declarado (copio textualmente), "I don't know – I know that we're lucky enough to be playing with the Pixies, which is a dream come true really, and who knows, maybe something happens with the band, but you know it's more fun to be spontaneous with that, maybe it happens like a surprise and not anything that's said before, you know!"
El inter?s de Strokes por los Pixies ha llevado al grupo de Nueva York a confirmar su presencia en el festival brit?nico T in the park, para poder compartir cartel con Frank Black y Kim Deal.
T In The Park se celebrar? los d?as 10 y 11 de julio en Balado, Kinross, cerca de Glasgow y contar?, adem?s de con Pixies y Strokes; con David Bowie, The Chemical Brothers, The Darkness, Muse, Snow Patrol, N*E*R*D*, Franz Ferdinand, Scissor Sisters y Dogs Die In Hot Cars.
La noticia original es del NME.

Más información:
Últimos artículos:
Post Popularity 3.73%
Popularity Breakdown
Views 0.45% Comments 14.46% Retweets 0% Facebook Likes 0%