Festimad lo confirma a trav?s de su p?gina web, el 29 de mayo Pixies actuar?n en el Parque el Soto de M?stoles.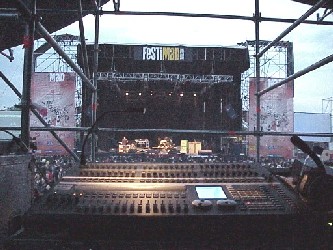 Adem?s de Pixies, el s?bado est?n tambi?n en el cartel The Internacional Noise Conspiracy, y el viernes Ben Harper, The Ramus y Akwid.
A?n no se sabe cu?les ser?n el resto de las bandas que completar?n la lista del festival, pero si van a ser todas de este estilo, qu? pintan los Pixies en este Festival.
Lo digo porque parece que el p?blico para el que se est? dise?ando el evento son quincea?eros adictos al nu-metal y derivados semajantes y en este contexto los Pixies tienen poco que ofrecer.
Por otro lado, creo que es un completo acierto aprovechar un festival con las posibildades de espacio que ofrece Festimad para volver a ver a Pixies, prefiero el Parque del Soto a la plaza de toros o a La Riviera, por lo menos nadie se quedar? sin entrada. De todos modos la organizaci?n de Festimad podr?a tratar de encontrar alg?n grupo que tenga algo en com?n con el sonido de Pixies, por lo menos para el s?bado, porque de otro modo, por lo menos para nosotros, el resto del festival no va tener ning?n inter?s.
Más información:
Últimos artículos:
Post Popularity 1.63%
Popularity Breakdown
Views 0.09% Comments 6.43% Retweets 0% Facebook Likes 0%