Se acaba de publicar una nueva web sobre Pixies coincidiendo con su vuelta a los escenarios.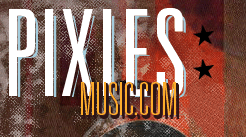 La est?tica recuerda mucho a la secci?n que les dedica la web de su discogr?fica, 4AD, hasta ahora, el foro m?s oficial, junto a la web de Frank Black que exist?a sobre los Pixies.
Las noticias de las que disponen en PixiesMusic.com son la m?s actualizadas que he encontrado e incluyen el rumor, del que se hace eco el NME, de que Pixies tocar?n canciones nuevas en sus conciertos de primavera.
Las nuevas canciones no parecen demasiado sugerentes, pero la noticia es interesante, la incluyo tal y como la he le?do:
"The Pixies have rehearsed and they will rehearse again in March in a secret location in Los Angeles.
"Yes, they have decided which tunes they are doing. For the most part, they'll be doing Pixies ' tunes. As for new songs, there's a Latvian lullaby, a Czech dirge and a Bulgarian ballad."
PixiesMusic nace con vocaci?n de ser la p?gina oficial sobre los Pixies, aunque a?n no lo son, seg?n declara el webmaster a Pitchforkmedia.

Más información:
Últimos artículos:
Post Popularity 1.22%
Popularity Breakdown
Views 0.45% Comments 4.42% Retweets 0% Facebook Likes 0%