Esta semana tambi?n quiero incluir agendilla, que siempre viene bien.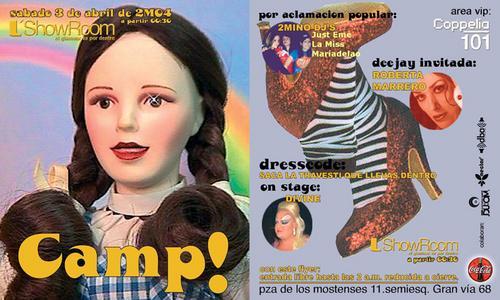 De momento:
S?bado 3 en L?showroom del Coppelia 101, Just Eme -chumino (2mino)- pinchando de 1 a 3, luego Roberta Marrero y Divine on the stage!
Me prometen que sonar?n:
Bananarama, L kan, Spagna, Toni Basil, Nirvana, Kylie y Danni, chico y chica, Madonna, blondie, Wham, Alaska, Ramones, Mcnamara, Cindy Lauper, Rick Asley, Dead or alive, Joy Division, Sabrina salermo, Fisherspooner, Samantha Fox, Deelite, Las grecas, Lemon Fly, electric six, new order, paralisis permanente, haddaway, kaka de luxe, daft punk, aerolineas federales, pizzicato 5, hot hot heat, astrud, fangoria, strokes, planetas, erasure, ellos, jay jay johanson, carlos berlanga, undertones, the rapture, pizzicato 5, tok tok vs Soffy O, outkast, white stripes, jet, blur, beni benassi, scissor sisters, big soul, pet shop boys, kim wilde, depeche mode, kelis, bulerias, brtney, the twins, superputa, shampoo, trans X, rammstein, pulp, 2Unlimited…
Puedes encontrar m?s informaci?n en el blog de Just M.
Más información:
Últimos artículos:
Post Popularity 1.4%
Popularity Breakdown
Views 0.36% Comments 5.22% Retweets 0% Facebook Likes 0%