Mi pintor favorito es Edward Hopper (1882-1967).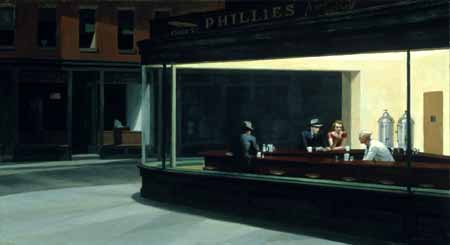 Nacido en Nyack, estado de Nueva York, en el seno de una familia acomodada, sus estudios de dibujo en una escuela de dise?o comercial; y el contacto que mantuvo con las vanguardias impresionistas durante las tres ocasiones en las que residi? en Par?s; marcan el estilo realista de su pintura, realizada fudamentalmente en acuarela y aguafuerte.
Las escenas urbanas o los paisajes de su residencia de verano en South Truro, Cape Cod, son constantes en una obra que retrata con maestr?a la pura soledad empleando como herramienta principal la luz que dibuja pesonajes solitarios en lugares fr?os.
La Tate Modern de Londres, del 27 de este mes al 5 de septiembre ha organizado una retrosprectiva sobre Edward Hopper, comisariada por Sheena Wagstaff que recorre la evoluci?n del artista norteamericano, desde su per?odo parisino, hasta a comienzos del siglo XX, hasta las escenas petrificadasde la vida americana sesenta a?os m?s tarde.
Seg?n Wagstaff, Hopper es el precursor del pop art y su trabajo ha inspirado varias generaciones de cineastas, escritores y artistas, entre ellos, Alfred Hitchcock, Francis Ford Coppola, Todd Haynes, William Boyd, Norman Mailer, John Updike, Ed Ruscha, Peter Doig o Luc Tuymans.

Edward Hopper Retrospective
This major retrospective of the work of Edward Hopper (1882-1967), sponsored by American Airlines, will be the first in the UK for over twenty years. Hopper is considered the pre-eminent painter of modern America and many of his works have become iconic images of the twentieth century.
By staging scenes and motifs from everyday life, illuminated by strong sunlight or artificial light, Hopper transcended the American experience to address universal concerns and his paintings are profound statements about the human condition. His work places him amongst the ranks of the most significant international painters of the twentieth century, and has inspired generations of film makers, writers and artists including Alfred Hitchcock, Francis Ford Coppola, Todd Haynes, William Boyd, Norman Mailer, John Updike, Ed Ruscha, Peter Doig and Luc Tuymans.
Born in Nyack, New York, Hopper was encouraged by Robert Henri, his teacher at the New York School of Art, to spend three sojourns in Paris between 1906 and 1910, where he painted the Parisian cityscape, paying particular attention to the distinctive architecture and light. Back in New York, Hopper returned to American streetscapes and landscapes, and moved in 1913 to 3 Washington Square North where he was to live for the rest of his life. It was not until the age of forty-two, after his first one-person show in 1924, that Hopper was able to devote himself full-time to fine art. In 1933, Hopper?s first retrospective was held at MoMA and in the exhibition catalogue, the museum director, Alfred Barr, celebrated Hopper as the quintessential American modernist artist.
The exhibition of around seventy works will cover Hopper?s entire career. In addition to the iconic paintings, there is a selection of watercolours, drawings and etchings, from the Parisian subjects of the first decade of the twentieth century to the stark portraits of American life created more than sixty years later. The early works indicate some of the key elements of Hopper?s work, including dramatic use of light and shade, and solitary pensive figures in interiors. By the late 1920s, paintings such as Williamsburg Bridge, 1928 demonstrate the predominant themes in Hopper?s work: the use of American vernacular architecture as foreground or cropped backdrop to evoke psychological tension and alienation, enhanced by the formal geometries of light and darkness within each building?s environment or room interiors. Major works from the 1940s onwards including Nighthawks, 1942 show the different ways in which these themes were developed, while paintings from the last two decades of Hopper?s life such as Intermission, 1963 reveal how his compositions became increasingly minimal.
The significance of film to Hopper and the importance of Hopper to the development of film will be explored through a programme of historic and contemporary films selected by film director, Todd Haynes, to be screened at Tate Modern throughout the exhibition. A mid-career focus exhibition of paintings by Luc Tuymans will be shown concurrently with Hopper, presenting a contemporary perspective of realism alongside Hopper?s earlier vision.
The exhibition is curated by Sheena Wagstaff, Head of Exhibitions and Displays at Tate Modern, and will travel to the Museum Ludwig, Cologne from 9 October 2004 ? 9 January 2005. The exhibition catalogue includes commissioned essays by David Anfam, Brian O'Doherty, Margaret Iversen, Sheena Wagstaff and Peter Wollen, that will situate Hopper within an international historic, cultural and sociological framework, and also includes an extensive chronology by Maeve Polkinhorn and Kathleen Madden.
Más información:
Últimos artículos:
Post Popularity 0.79%
Popularity Breakdown
Views 0.36% Comments 2.81% Retweets 0% Facebook Likes 0%