Coment?bamos hace alg?n tiempo la poca oferta festivalera que existe en el norte de Espa?a, bueno, m?s bien en el noreste como luego veremos.
Sin exigir que se organice un evento del tama?o de Benicassim, Primavera Sound o Festimad en Euskadi, Navarra o aleda?os, yo creo que hay aficionados a la m?sica suficientes para hacer rentable un Euskocontempopranea o un Popmission bilba?no.
En pocas semanas lo podremos comprobar porque el fin de semana del 2 y 3 de julio se celebra en Miranda de Ebro (Burgos), a poco m?s de media hora de Bilbao, el Ebrovision 2004.

La 3? edici?n del festival burgal?s contar? con los directos de BRONCO BULLFROG, PLEASURE BEACH, LA GRANJA, LA HABITACI?N ROJA, DELOREAN, DJ Alex ? Elena (Purple Weekend), EL COLUMPIO ASESINO, THE SUNDAY DRIVERS, BOEDEKKA, SERAFIN, MIQUI PUIG, D.J Amable
Los conciertos se celebrar?n en un recinto llamado La F?brica de Tornillos y las sesiones de dj en la discoteca Orosco. El precio de los abonos adquiridos de forma anticipada es de 25 euros.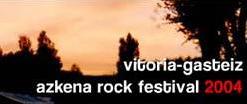 Despu?s del verano tendremos una nueva oportunidad de disfrutar de otro festival, el Azkena Rock Festival 2004, esta vez en Vitoria, los d?as 9, 10, 11 y 12 de semptiembre.
El Azkena se celebrar? de nuevo en Mendizabala, con un cartel en mi opin?n peor que el presentado en la edici?n 2003 (el a?o pasado actu? Iggy Pop, Teenage Fanclub…).
DKT/MC5
Hoodoo Gurus
Josh Rouse Band
Kuraia
Redd Kross
Stacey Earle & Mark Stewart
The Soundtrack of Our Lives
Urge Overkill
Turbonegro
The Wildhearts
The Screamin' Cheetah Wheelies
Comenzaba el post hablando un noreste de Espa?a olvidado por los grandes festivales, todo lo contrario que Galicia que este a?o cuenta con una oferta musical tremenda:
Xacobeo:
27 de julio: Red Hot Chili Peppers + XXL
15 de Julio: Lilith + The Darkness + Iggy & The Stooges + Massive Attack + Chemical Brothers
16 de Julio: Starsailor + Muse + The Cure + David Bowie
17 de Julio: Gary Jules + Bob Dylan +The Corrs + Echo & The Bunnymen
Y del Portugal eurocopero no hablemos, adem?s del ya pasado Rock in Rio con ??Alejandro Sanz!! (Coraz?n Part?o, que pedazo tema festivalero):
Super Bock Super Rock (Lisboa) con Liars, Pixies, Massive Attack, Lenny Kravitz, Fatboy Slim, Muse…
Vilar de Mouros (Caminha, al norte, cerca de Galicia), con Chemical Brothers, Peter Gabriel, The Cure, Bob Dylan, PJ Harvey.
Si quer?is m?s informaci?n sobre conciertos en Galicia o norte de Portugal vistad la complet?sima web Desconcierto.com

Más información:
Últimos artículos:
Post Popularity 3.33%
Popularity Breakdown
Views 0.45% Comments 12.85% Retweets 0% Facebook Likes 0%