Musicalmente hablando, el 2004 destaca, entre otras cosas, por ser el a?o de las reuniones de grupos m?ticos (Pixies, Depeche Mode); y por el auge de grupos como !!!, Radio 4, The Faint, Delorean, The Rapture, o lo que es lo mismo, del sonido post punk y sus variantes bailables.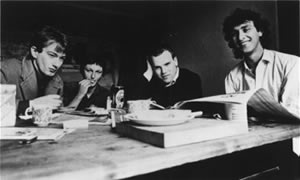 Ambos aspectos coinciden en el post de hoy, porque Gang of Four, una de las grandes bandas brit?nicas de finales de los 70, han decidido reunirse de nuevo.
Jon King (voz), Andy Gill (guitarra y voz), Dave Allen (bajo) y Hugo Burnham (bater?a), que no trabajan juntos desde 1981, quiz?s se hayan cansado de ver como muchos grupos actuales, con bastante menos talento, triunfan explotando un sonido del que ellos son uno de los m?ximos precursores.
Gang of Four, no tienen previsto de momento grabar nada nuevo y se conforman una peque?a gira en UK:
* Manchester Academy, 23 de enero
* Leeds University, 24
* Bristol Academy, 25
* Birmingham Academy, 27
* London Shepherd?s Bush Empire, 28
Info v?a Carolina.

Más información:
Últimos artículos:
Post Popularity 0.37%
Popularity Breakdown
Views 0.27% Comments 1.2% Retweets 0% Facebook Likes 0%