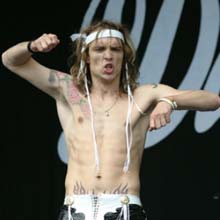 La lista de los nominados para los Premios Brits ha sido publicada. Entre las nominaciones destaco a grupos emergentes como The Darkness, Kings of Leon, otros ya consagrados, The Strokes, o White Stripes y artistas que pueden ser ya calificados como maestros, Radiohead y David Bowie.
Comparar la lista con los nacionales Premios Amigo o los Premios de la M?sica es como para echarse a llorar.
Uno de los premios est? dedicado para grupos de m?sica electr?nica, algo no habitual en este tipo de iniciativas, entre los nominados en esta secci?n, Basement Jaxx, Goldgfrapp o Groove Armada.
Por cierto, un paseo por las webs de todos estos grupos es una gozada si te gusta el dise?o innovador de p?ginas web.

Artista brit?nico masculino en solitario – Badly Drawn Boy, Daniel Bedingfield, David Bowie, Dizzee Rascal, Will Young
Artista brit?nica femenina en solitario – Amy Winehouse, Annie Lennox, Dido, Jamelia, Sophie Ellis Bextor
?lbum Brit?nico- Blur – ?Think Tank?, The Coral – ?Magic And Medicine?, Daniel Bedingfield – ?Gotta Get Thru This?, The Darkness – ?Permission To Land?, Dido – ?Life For Rent?
Grupo Brit?nico – Busted, The Coral, The Darkness, Radiohead, Sugababes
Single Brit?nico – Dido – ?White Flag?, Gareth Gates – ?Spirit In The Sky?, Jamelia – ?Superstar?, Mis-teeq – ?Scandalous?, Rachel Stevens – ?Sweet Dreams My LA Ex?
Actuaci?n brit?nica rock – The Darkness, Feeder, Muse, Primal Scream, Stereophonics
Actuaci?n brit?nica urban- Amy Winehouse, Big Brovaz, Dizzee Rascal, Lemar, Mis-teeq
Actuaci?n brit?nica dance- Basement Jaxx, Goldfrapp, Groove Armada, Kosheen, Lemon Jelly
Revelaci?n Brit?nica- Busted, The Darkness, Dizzee Rascal, Jamie Cullum, Lemar
Actuaci?n pop- Black Eyed Peas, Busted, Christina Aguilera, Daniel Bedingfield, Justin Timberlake
Artista en solitario internacional masculino – 50 Cent, Beck, Damien Rice, Justin Timberlake, Sean Paul
Artista en solitario internacional femenino – Alicia Keys, Beyonce, Christina Aguilera, Kylie Minogue, Missy Elliott
?lbum internacional – Beyonce – ?Dangerously In Love?, Christina Aguilera – ?Stripped?, Justin Timberlake – ?Justified?, Outkast – ?Speakerboxx? / ?The Love Below?, White Stripes – ?Elephant?
Grupo Internacional- Black Eyed Peas, Kings Of Leon, OutKast, Strokes, White Stripes
Revelaci?n internacional- 50 Cent, Evanescence, Kings Of Leon, Sean Paul, The Thrills
Premio especial – Duran Duran
Más información:
Últimos artículos:
Post Popularity 0.91%
Popularity Breakdown
Views 0.81% Comments 2.81% Retweets 0% Facebook Likes 0%