El fin de semana se presenta interesante, varias son las cosas que me apetecer?a hecer. La mejor opci?n, Valencia con Le Hammond Inferno, uno de mis grupos-djs preferidos, los v? en Bilbao el a?o pasado y estuvo muy bien, imprescindibles si te gustan las mezclas de pop y electr?nica.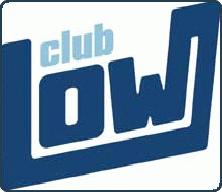 No estar?a mal conocer el Low, del que no he podido encontrar a?n la programaci?n. Esta nueva posibilidad para las noches de los viernes en Madrid est? situado en Galileo 26, en la antigua sala Rev?lver, y ser? programado por Intromusica. Un complemento para propuestas m?s mayoritarias al Low Bar de de la Plaza del Carmen.
En Barcelona, el viernes, en la Sala Razzmatazz:
Sala Lo*li*ta: The Orb – Alex Paterson dj set + Vicknoise
The Loft: Sideral (Hit Kune Do/Bcn) + MouseUp
Razz Club: Siamiss
Pop Bar: Tripping the life fantastic: Bonnie&Clyde
Temple Beat: Fiesta presentacion de "Against" de Caustic Records. Djs Ko?s & Mois?s (Asphalt! / Tannhauser – Caustic Records)
En Barcelona y el viernes tambi?n, en el Mond Club:
Jay Jay Johanson
+ Hazcaso
En Valencia el s?bado Le Hammond Inferno, en el Ateneo Mercantil.
En Madrid, antes de meteros en alg?n club pod?is pasaros por el Freeway que el viernes hace fiesta de los 80 y el s?bado tiene pinchando a Spunknic djs.
El viernes, en el 8, Canut y Mario Vaquerizo, en Barbarella, Rock&Roll Suicide y el s?bado en el Nasti FannyPack.
Más información:
Últimos artículos:
Post Popularity 1.4%
Popularity Breakdown
Views 0.36% Comments 5.22% Retweets 0% Facebook Likes 0%