Rafa Skam, componente de Vacaciones y Yellow Melodies no est? de acuerdo con las listas que ha le?do que recopilan lo mejor del 2003. Ha publicado en su web su propia selecci?n.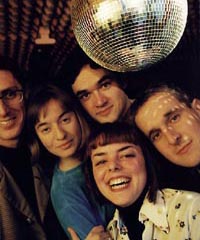 El trabajo es complet?simo, destacando hasta djs, Clint Boon en Benicassim ya Georgy Girl en el Festival Easy Pop Andorra, Teruel.
Discos internacionales:
1. OOBERMAN – Hey Petrunko CD (Sinnamon / Rotodisc)
2. GRANDADDY – Sumday CD (V2)
3. ADAM GREEN – Friends of mine CD (Sinnamon / Rough Trade)
4. BROADCAST – Haha sound CD (Warp)
5. CLEARLAKE – Cedars (Dusty Company)
6. THE AISLERS SET – How I learned to write backwards CD (Suicide Squeeze)
7. MULL HISTORICAL SOCIETY – Us CD (Warner)
8. BLACK BOX RECORDER – Passionoia CD (One Little Indian)
9. CAMERA OBSCURA – Underachievers please try harder CD (Elefant)
10. THE MEETING PLACES – Find yourself along the way CD (Words On Music)
11. THE ESSEX GREEN – The long goodbye CD (Track & Field)
12. IAN MCCULLOCH – Slideling CD (Cooking Vinyl)
13. LADYTRON – Light & magic CD (Invicta Hi-fi)
14. THE NEW PORNOGRAPHERS – Electric version CD (Matador)
15. J XAVERRE – These acid stars CD (Memphis Industries)
Discos nacionales:
1. LA CASA AZUL – Tan simple como el amor CD (Elefant)
2. UNIVERSAL CIRCUS – Shinning light series CD (Mushroom Pillow)
3. THE WINNERYS – And… CD (Rock Indiana)
4. SIDONIE – Shellkids CD (Sony)
5. LA BUENA VIDA – ?lbum CD (Sinnamon)
6. PARADE – Inteligencia artificial CD (Spicnic)
7. JUBILEE – The ghost orchestra CD (Mushroom Pillow)
8. CECILIA ANN – Si yo te contara CD (Intromusica)
9. BIG CITY – A spring of summers CD (Grabaciones en el Mar)
10. LES PHILIPPES – Philarmonic Philanthropy CD (B-core)
La lista completa aqu?.

Más información:
Últimos artículos:
Post Popularity 1.12%
Popularity Breakdown
Views 0.45% Comments 4.02% Retweets 0% Facebook Likes 0%