En la estupenda adaptaci?n al cine de la novela de Nick Hornby "High Fidelity", dirigida por Stephen Frears hace algunos a?os (habr? visto el DVD un buen pu?ado de veces), hab?a una escena en la que Rob (John Cusack), el protagonista, apostaba con uno de sus empleados en Championship Vinyl, que ser?a capaz de vender cinco singles de The Beta Band en unos minutos. En ese momento, Rob pinchaba en el equipo de m?sica de la tienda "Dry the rain", y todos los clientes comenzaban a mover la cabeza al comp?s, y a preguntar con gran inter?s, que qu? era aquello que estaba sonando…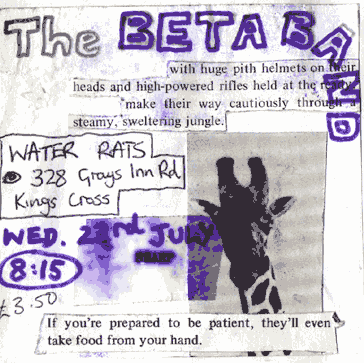 Psicodelia pop de f?cil digesti?n para el oyente, m?sica directa y alegre, as? son The Beta Band.

El pr?ximo d?a 26 de Abril, ver? la luz el nuevo ?lbum de los escoceses, que llevar? el t?tulo de "Heroes to zeros", y supondr? su tercer LP, tras "The Beta band" (1999) y "Hot Shots II" (2001).
En la web oficial del grupo, se anuncia que ser? un disco "novedoso, y su sonido supondr? el perfecto ensamblamiento entre samples, bases r?tmicas programadas y una banda en directo".
Este ser? el track list:
01. ASSESSMENT (primer single)
02. SPACE
03. LION THIEF
04. EASY
05. WONDERFUL
06. TROUBLES
07. OUT-SIDE
08. SPACE BEATLE
09. RHODODENDRON
10. LIQUID BIRD
11. SIMPLE
12. PURE FOR
Más información:
Últimos artículos:
Post Popularity 0.32%
Popularity Breakdown
Views 0.09% Comments 1.2% Retweets 0% Facebook Likes 0%