El comienzo del 2004 me est? pareciendo decepcionante en cuanto a nuevos discos publicados se refiere. No hay muchas novedades y ning?n disco firmado este a?o me ha entusiasmado.
Por lo que he le?do promete el ?ltimo de Fangoria, "Arquitectura Ef?mera" aunque a?n no he podido escuchar nada.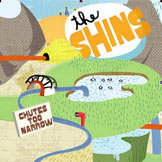 De momento las tres novedades que m?s me han gustado son, "Casualidades" de Miqui Puig, "We only move when something changes" de Bego?a y "Chutes too Narrow" de The Shins.
Estos ?ltimos, firmaron en el 2001 uno de los mejores discos de aquel a?o, "Oh, Inverted World". Hacen un rock tranquilito o como dicen en algunos sitios, "reflexivo", lo-fi muy en la l?nea de Big Star, Guided by Voices o Manishevitz.
Su nuevo trabajo "Chutes to narrow", publicado con un sello m?tico en los 90, Sub Pop, mezcla con mucha elegancia surrealismo urbano y paranoias ficticias con melod?as pop y psicodelia.
The Shins, comandados por el brillante James Mercer, estar?n el pr?ximo martes d?a 13 en la Sala Moby Dick de Avenida del Brasil n?mero 5 presentando su disco.
Más información:
Últimos artículos:
Post Popularity 1.25%
Popularity Breakdown
Views 0.18% Comments 4.82% Retweets 0% Facebook Likes 0%