Ma?ana Viernes:
:: SMALL FACES TRIBUTE ::
The Tin Soldier Band presents a Small Faces Tribute, Viernes 18 de Junio 21:00, Moby Dick:
Los Fortune Tellers que se convierten en The Tin Soldier Band, hacen un par?n en la gira de presentaci?n de su mini-LP "Were Right", para homenajear al grupo que m?s admiran y adoran, The Small Faces. Para ello, contar?n con la colaboraci?n de miembros de otras muchas bandas: Sex Museum, Los Coronas, Magic Bus, Winnerys, Protones o Berracos entre otras, m?s alguna sorpresa de ?ltima hora; que se subir?n al escenario para interpretar conjuntamente algunos de los temas del m?tico cuarteto ingl?s.
Despu?s del concierto la Fiesta continuar? en el Wild Thing Bar, con pinchadiscos invitados: Jaime "Berracos" y Vic.
:: SIROCO ::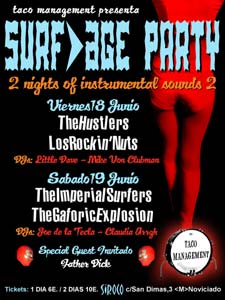 :: 8YMEDIO ::
Tras muchos a?os realizando una de las p?ginas web musicales m?s visitadas de este pa?s, fanfatal.com, Manolo Crespo (a.k.a. Silvia Sobrini), ha puesto en marcha un nuevo proyecto, www.vivaelpop.com
FIESTA PRESENTACI?N VIVA EL POP.COM
BABY HORROR ( MADRID / SUBTERFUGE / DIRECTO) + MANOLO CRESPO + CARLOS TOP
:: BARBARELLA ::
PELEA DE DJ'S – estabiel & fletcher Vs. lucas arraut & jens
:: LOW CLUB ::
El Low fatal, no tiene p?gina y la semana pasada les mand? un correo que no han dignado responder, pidi?ndoles la programaci?n, pues nada, como si toca Morrissey y luego pincha Frank Black.
*******
Adelanto de la pr?xima semana, imprescindible, el proximo d?a 24 de junio, jueves de SAN JUAN, en la V?a L?ctea ( MADRID), de 10:30 a 3:00, pinchar? JUAN DE PABLOS (Flor de Pasi?n, Radio 3) y JUAN CARLOS YEYE.
Más información:
Últimos artículos:
Post Popularity 0.43%
Popularity Breakdown
Views 0.09% Comments 1.61% Retweets 0% Facebook Likes 0%