Ante el inter?s que ha despertado la actuaci?n de los Cumshots en el Quart Festival, habr? que incluir alguna foto m?s…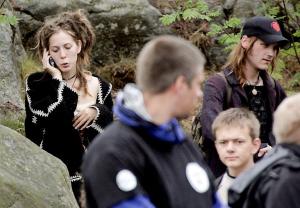 Los protagonistas, Leona Johansson y Tommy Holm Ellingsen.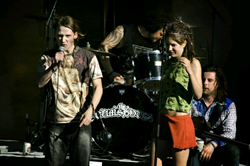 "Nos toca a nosotros".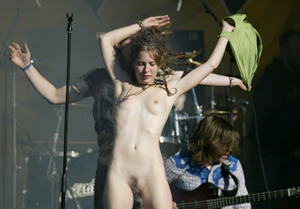 Ahora comienza el Festival.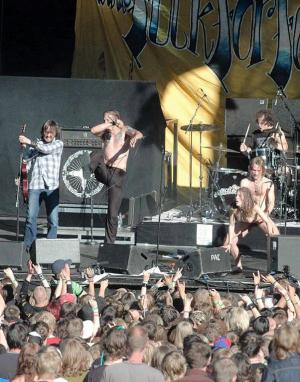 Cada uno a lo suyo.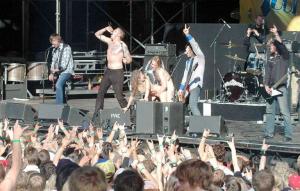 Perdona, con la m?sica tan alta no te he o?do.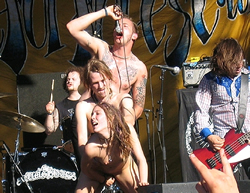 ???nimo Tommy!!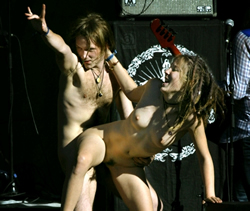 Fundamental saludar.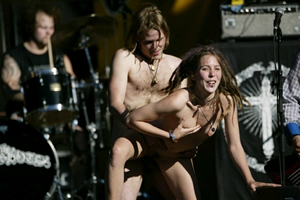 Y sonreir.
Tiene explicaci?n. Tommy (28), y Leona (21), son miembros de "Fuck For Forest", una organizaci?n que a base de sexo en p?blico quieren denunciar la poca atenci?n que la sociedad presta a los bosques. Algo as? como desnudarse para protestar contra los toros pero a lo bestia.
As? que, se subieron al escenario de Quart y despu?s de gritar, "How far are you willing to go to save the world?" (?Hasta d?nde est?s dispuesto a llegar para salvar el mundo?), demostraron lo lejos que llegan ellos.
Parece que el p?blico, entusiasmado con la causa forestal, les lanz? bastante dinero. Los protagonistas, lo donaran a su causa.
M?s fotos aqu?: http://gfx.dagbladet.no/nyheter/2004/07/06/cumshots14.jpg
(No tiene ?ndice, hay que ir cambiando el n?mero de la foto, del 2 al 17)

Más información:
Últimos artículos:
Post Popularity 1.78%
Popularity Breakdown
Views 0.27% Comments 6.83% Retweets 0% Facebook Likes 0%