Diez a?os de diferencia hay entre la publicaci?n en 1995 del "Exit Planet Dust", el primer disco de los Chemical Brothers, y la de su ?ltimo trabajo, "Push the Button".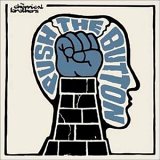 Durante este tiempo, el d?o formado por Tom Rowlands y Ed Simons, respaldados por cr?tica y p?blico, se han convetido en los indiscutibles reyes del panorama electr?nico mundial. Sin embargo, por lo que parece los Chemical tampoco han podido evitar la decadencia compositiva que afecta a muchos de los grupos que en los 90 formaron la generaci?n "big beat". Al igual que antes les pas? a Fatboy Slim, Prodigy, Faithless, Apollo 440, Leftfield o Propellerheads, Chemical tambi?n est?n en crisis.
En el "Come with us", un irregular disco publicado hace dos a?os, ya se pod?an constatar lagunas creativa, sobre todo en comparaci?n con sus discos anteriores. Sin la consistencia de sus dos primeros trabajos ("Exit Planet Dust" y "Dig your own hole"), y sin los megahits del "Surrender", el ?lbum de 2003 se qued? reducido a un pu?ado de canciones inconexas. Ning?n tema sonaba mal, pero el conjunto estaba claramente por debajo de lo que los Chemical hab?an firmado hasta el momento.
"Push the Button" contin?a la l?nea del "Come with us". Se pueden encontrar sonidos muy variados, pop, acid, pseudotrance, house, psicodelia , hip hop o bhangra, sin embargo el conjunto vuelve a parecer incosistente y el resultado es irregular.
Por destacar alguna canci?n, me quedo con la primera "Galvanize", que aunque no me guste porque es muy machacona, mezcla de forma curiosa a Q-tip con el bhangra, y sobre todo con la ?ltima, la psicod?lica "Surface to the air".
A?n quedan muchos fans de los Chemical, as? que para los que quer?is rememorar el pasado, Tom Rowlands y Ed Simons pasar?n por Espa?a durante marzo. La ?ltima vez que les v? fue en Bilbao en la gira del Surrender y no me defraudaron. Las fechas son las siguientes:
Concierto de Chemical Brothers en San Sebasti?n/Donosti, 4 marzo en Illumbe.
Concierto de Chemical Brothers en Madrid, 5 de marzo, Palacio de Vistalegre.
Concierto de Chemical Brothers en Granada, 6 de marzo, Palacio de Deportes.
Más información:
Últimos artículos:
Post Popularity 0.65%
Popularity Breakdown
Views 0.18% Comments 2.41% Retweets 0% Facebook Likes 0%