Hace unos meses, en junio concretamente, cont?bamos que Atom Rhumba iba a actuar en el festival Fujirock (Niigata-Jap?n) el d?a 31 de julio.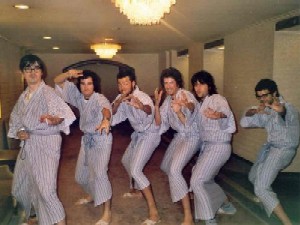 (Pues) Parece que triunfaron por que los bilba?nos han sido elegidos por la cr?tica japonesa como "the best new comer" (algo as? como el mejor grupo sorpresa) del Fuji Rock de Jap?n. Adem?s parece que el primer d?a del festival su ?ltimo disco, "Backbone Ritmo" fue n?mero uno de la lista de mejores discos del festival, (por delante de Mooney Suzuki, PJ Harvey, White Stripes, !!!…).
Para compartir la experiencia nipona, Atom Rhumba ha abierto un fotolog curios?simo, donde se puede comprobar c?mo es un festival de m?sica independiente en el mism?simo Jap?n.
Indagando un poco sobre la actuaci?n de los rhumbeos en Niigata, he encontrado la rese?a que de ellos hacen en el Fujirock Express, el peri?dico del festival:
Basque bands have played Fujirock for the last several years. It`s something of political statement, as the Spanish region has a separatist movement with deep history. The Basque language is one of two in Europe (the other is only spoken in Finland) with roots that precede Latin. It`s much older than 2000 years and a last bastion in Europe. They have their own culture that`s older than Europe, and they don`t want the world to forget it.
Folklorismo euroling??stico, referencia al "separatist movement with deep history", ?qu? tiene que ver esto con la m?sica?
A m? por lo menos, si leo algo sobre Pizzicato Five, me interes?a saber c?mo suenan y m?s bien poco que por ejemplo, han nacido (si as? hubiera sido) en las islas Kuriles (por las que se pelean Jap?n y Rusia), salvo que sea un hecho que determine su m?sica. Porque la verdad, ?que tendr? que ver el tema del euskera o el separatismo con el sonido y el estilo de Atom Rhumba?, que en mi opini?n, hubieran sido los mismos naciendo en Bilbao o en C?ceres.
Por cierto, estos representantes de la cultura "older than Europe", cantan en ingles.

Más información:
Últimos artículos:
Post Popularity 0.65%
Popularity Breakdown
Views 0.18% Comments 2.41% Retweets 0% Facebook Likes 0%