Ma?ana jueves por ejemplo:
En el Tupperware, Dj Skywalker, residente en el antiguo Rhumba bar de Torrej?n.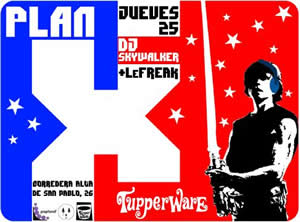 Y despu?s, en el LOW Club:
Mario y Coc? (CIELO), avanzando parte de lo que, a principios del 2005, ser? su nuevo ?lbum, Radio Subterr?nea. Tekno-pop minimalista, altamente ideol?gico y lleno de sonidos rom?nticos y fr?os remezclados por lo mejor de la escena electr?nica internacional: Ascii Disko, Jeans Team, Tape, Isan, etc…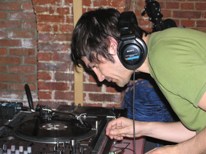 Tras ellos, concluida la gira del Wintercase de Los Planetas, FLORENT Y YO, vuelve a Madrid, en su faceta como dj para pinchar en el local del que es residente, el Low Club, (Valverde, 10).
O bien en el CRASH: DR. D-LOREAN a.k.a. A1 PEOPLE DJ ( hydrogen dukebox / londres). Detalles del Crash, en el cuerpo extendido del post.

Simeon Bowring ( Dr. D-Lorean) es el miembro fundador del combo electro A1 PEOPLE, que se cre? a finales de 1996 en Brixton ( Londres). Anteriormente ya hab?a editado varios singles y un ?lbum bajo su proyecto techno de nombre Pentatonik.
Simeon reinterpret? el electro a finales de los 90 y pronto firm? por el sello independiente Hydrogen Dukebox.
Ha grabado 3 ?lbumes de A1 PEOPLE ( entre los que destacan sus hits Do it y Casio Rock) y est? trabajando junto a Tom Crook en su cuarto lp, que saldr? a finales de a?o. Recientemente han editado un 7″ de edici?n limitada con una versi?n del cl?sico de Joy Division "Love will tear us apart".
Adem?s de su trabajo en A1 PEOPLE, el Dr. D-Lorean ha remezclado a m?s de 50 artistas, de la m?s diversa ?ndole, incluyendo a Blondie, Siouxsie Sioux, The Lightning Seeds, Apollo 440, Playgroup, Anastasia, The Carpenters…
Tambi?n ha sido promotor de varios clubs en Londres en los ?ltimos siete a?os, como el "Track", el "Casio Rock" o su ?ltima creaci?n "The Cathouse".
En sus sesiones combina electro, future disco y breaks.
CRASH
******************
— electro wave —
Dj's residentes: The Replicant / Alvaro Cabana / Smart
Todos los jueves de 0 a 6 a.m.
Plaza del Callao, 4. Metro Callao. Madrid
Más información:
Últimos artículos:
Post Popularity 0.22%
Popularity Breakdown
Views 0.09% Comments 0.8% Retweets 0% Facebook Likes 0%