La revista NME que inspira muchos de mis post y de la mayor?a de p?ginas de noticias sobre m?sica pop y rock como Supernova, Muzikalia o Mondosonoro, ha anunciado cu?les son los nominados de los premios que conceder? este a?o.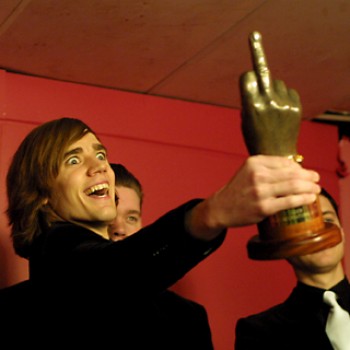 Los premios, votados por los lectores de la prestigiosa publicaci?n brit?nica, ser?n entregados el d?a 12 de febrero en Londres.
Radiohead es uno de los triunfadores de la lista porque aparece nominado como mejor banda brit?nica, mejor banda en directo, mejor ?lbum (Hail to the Thief), mejor single (There There) y mejor v?deo (There There).
The Darkness repite en las mismas nominaciones que Radiohead, salvo en el apartado de mejor ?lbum. El single con el que competir? ser? I Believe In A Thing Called Love.
Los recientemente pol?micos White Stripes optan a los premios de mejor banda internacional, mejor ?lbum (Elephant), mejor single (adivinad, empieza con un n?mero) y mejor v?deo con The Hardest Button To Button.
Muse, The Strokes o Kings Of Leon tambi?n aparecen en varias categor?as.
Para consultar la lista completa e incluso votar pod?is ir aqu?.

Más información:
Últimos artículos:
Post Popularity 0.39%
Popularity Breakdown
Views 0.36% Comments 1.2% Retweets 0% Facebook Likes 0%